Our foray into the Idle No More movement was impromptu.  Over the 2012 Christmas holidays, media coverage of this movement and Chief Theresa Spence's hunger strike was overwhelming.  When classes began again in January, we decided to study these current events, informed by what we had learned about the treaties.
We monitored the twitter hashtag #IdleNoMore, Facebook group and followed breaking news on CBC, the publicly funded Canadian news agency.  On Youtube, we researched the housing troubles on the Attawapiskat First Nation.
The Idle No More movement was and continues to be a very divisive issue.  We used it as a way of studying opinion.  All students were encouraged to form their own opinions and to justify them the best that they could.  Parents were kept informed of the nature of our discussions on the blog and by our weekly classroom email. From what I'm told, Idle No More became the topic of many family suppers.
Coincidentally, at this time, spoken word poet and educator, Khodi Dill, came to Moose Jaw and presented his poem, Holes at our local theatre.  His poem speaks to the issues surrounding housing on reserves and our class watched the Youtube clip many times.  We discussed bias and opinion and became inspired to delve into a spontaneous unit on spoken word poetry.
In the end, we decided that we wanted to share our learning about Idle No More with the school.  So we created a bulletin board in our hallway.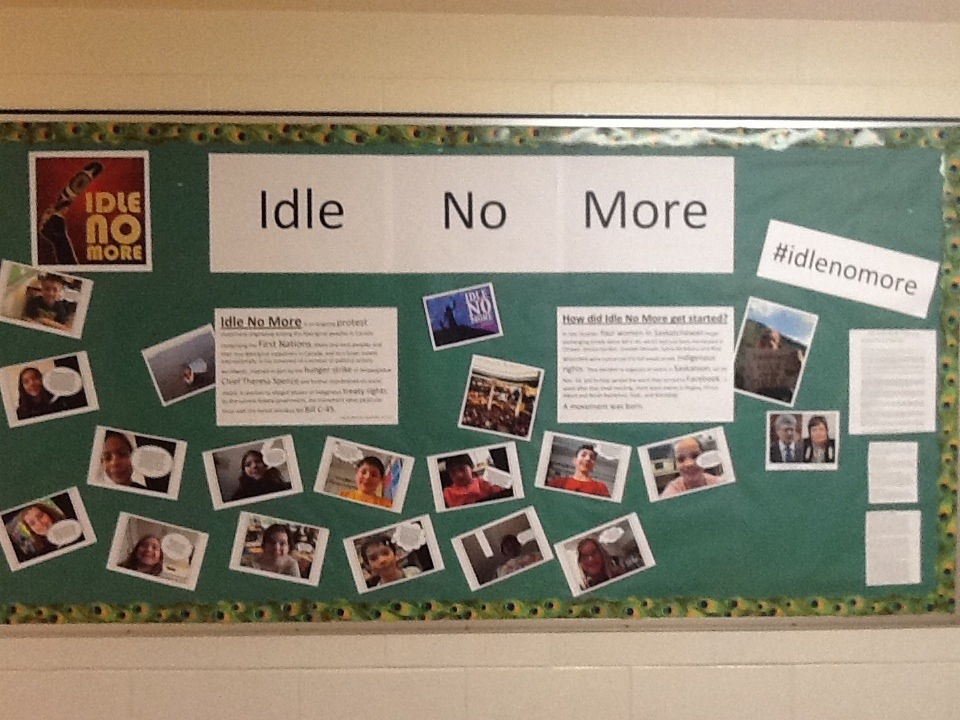 On it, we had a basic explanation of the movement, pictures of support from around the world and then student self-portraits with cartoon thought bubbles.  Here are several examples.
Students used the iPad cameras and the Strip Design app to create these images.
Step 1: Video      →      Step 2: Puppet Show      →      Step 3: Podcast      Step 4: Idle No More    →    Step 5: Stop Motion    →   Step 6: Final Project